Chances are, you're bound to recommit yourself to a series of resolutions and goals for the new year—which hopefully includes more time for rest and relaxation. One of the best places to make this happen is in your master bathroom. Since it's typically the first and last spot you encounter every day, these private retreats render a decisive impact on your mood and overall well-being. So, making them functional and accommodating to your daily routine deserves your attention.
When it comes to combining refinement with convenience, interior designer Julia Palen Wood is at the top of her game with Ruard Veltman Architecture @veltmanwoodinteriors in Charlotte. Along with coordinating and selecting finishes for all of the firm's wonderful projects, Wood keeps a sharp eye on both current residential trends and similar requests made by clients. "Ruard and I strive not only to make the master bathrooms in our homes special places to be, but also ensure that they have tranquil views to focus upon, such as a garden or water feature," she says. "In particular, the location of the tub is important to a bathroom's configuration, along with its proximity to the landscape beyond."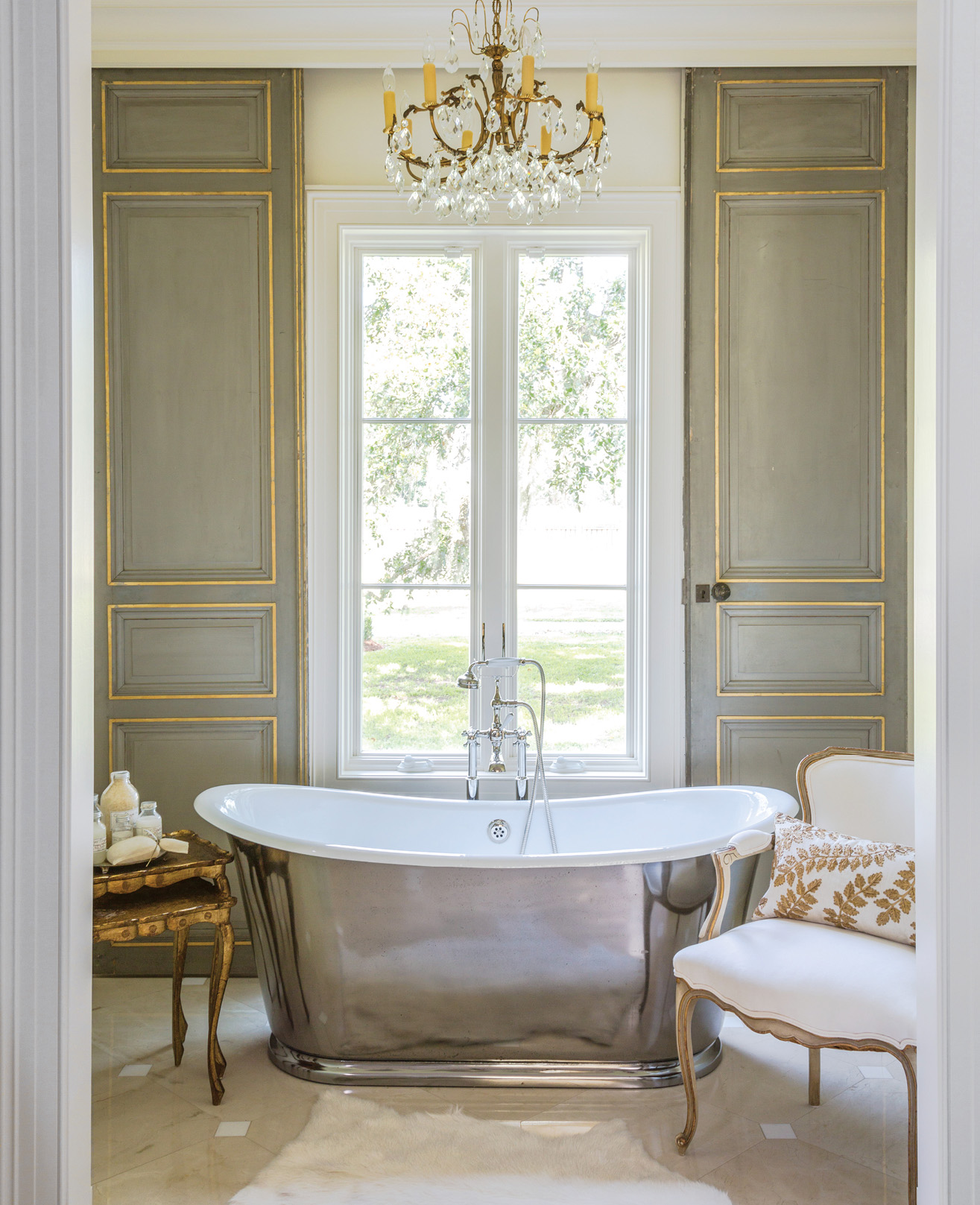 While tubs were often must-haves in master bathrooms, they have undergone some rethinking in recent years. "Many of our clients would be content with just a shower; however, even in our intent to design forever homes, we've discovered that clients still feel the need to include a tub for possible resale value," says Wood. She also states that when a soaking spot is called for, she and Veltman often select sculptural, freestanding tubs with smaller footprints to add some drama to the room. "And typically, we've found that homeowners like a drop-in tub, if they frequently enjoy bathing versus showering," she says.
Regarding placing double sinks in one long vanity, Wood points out that their clients prefer having separate vanities, especially if there's enough space to create individual dressing and prepping areas. "We've even seen an increase in dry vanities, primarily for women, in which they can stand at the counter rather than sitting," she says. "These counters tend to be narrower and higher than those with sinks, making them more comfortable to use." Such cabinetry also allows for more drawers to hold toiletries and towels, as well as being outfitted with outlets for hair dryers and other necessities, so that everything stays concealed and organized.
While homeowners want plenty of storage and perks in their master bathrooms, they also want such amenities to be discretely handled and well thought out. "We like to provide high storage at vanities, which is much easier to access than lower cabinets. Tall, single-door built-ins are convenient to use and have everything in one place—even in vanities where two sinks are closely located," says Wood. Likewise, she and Veltman both agree that master bathrooms shouldn't be overloaded with features and gadgets that work just as well elsewhere. "Most elements, like coffee stations, TVs, and seating, are best kept in areas that are apart or just off the master bedroom."
Bathroom Basics